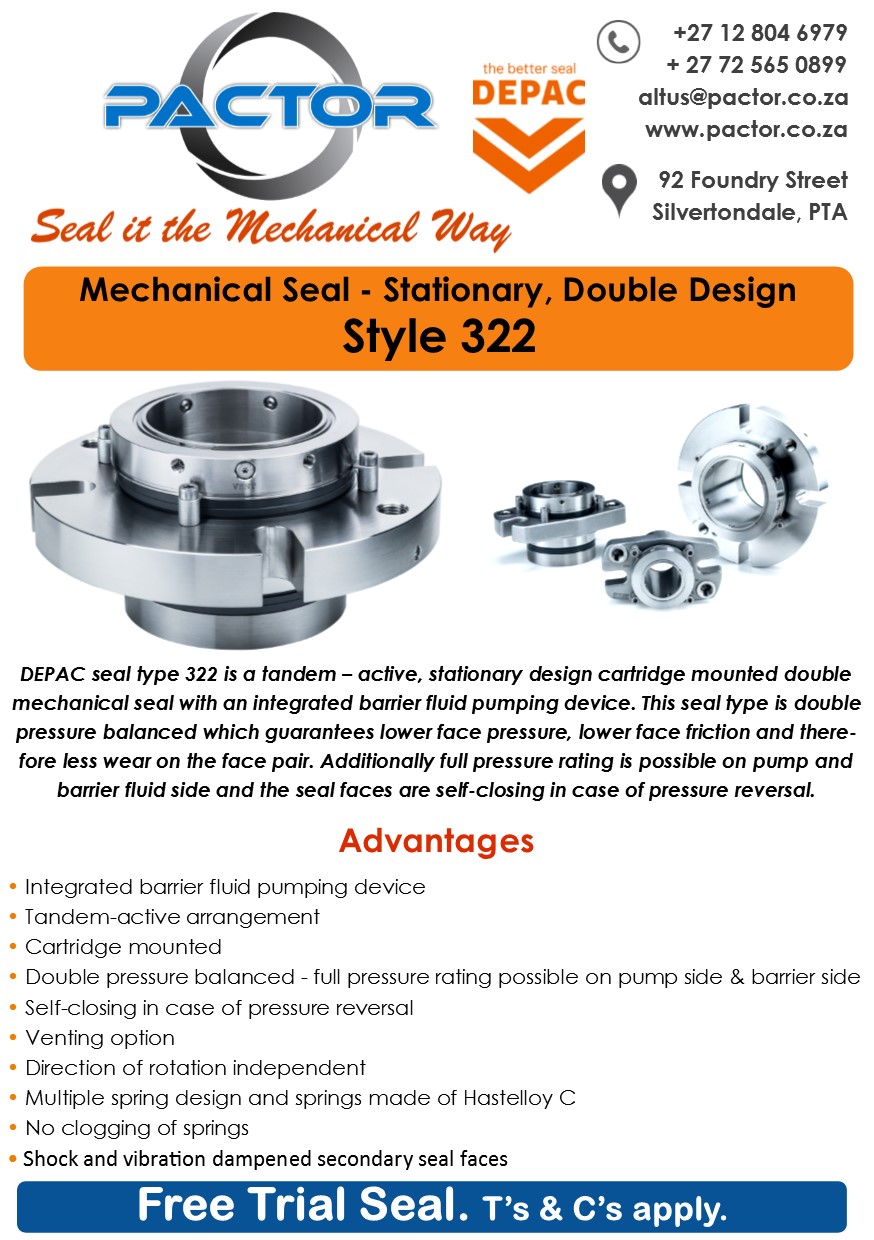 DEPAC seal type 322 is a tandem – active, stationary design cartridge mounted double mechanical seal with an integrated barrier fluid pumping device. This seal type is double pressure balanced which guarantees lower face pressure, lower face friction and therefore less wear on the face pair. Additionally full pressure rating is possible on pump and barrier fluid side and the seal faces are self-closing in case of pressure reversal. Available product variants type 321 and type 323 for smaller and bigger sealing chamber cross sections round out this seal's universal application opportunities.
Advantages
Integrated barrier fluid pumping device

Tandem-active arrangement

Cartridge mounted

Double pressure balanced - full pressure rating possible on pump side AND barrier side

Self-closing in case of pressure reversal

Venting option

Direction of rotation independent

Multiple spring design and springs made of Hastelloy C

No clogging of springs

Shock and vibration dampened secondary seal faces
Technical specifications
Operating range*
Pressure: 700 mm Hg up to 28 bar

Temperature: depending on Elastomer

Sliding velocity: up to 35 m/s
Maximum temperature / pressure / speed indicates operating extremes independently and does not imply the seal will function at these extremes at the same time. Contact Pactor if in doubt.
Dimensions
Shaft diameter: 24mm – 160 mm

Inch Sizes also available

Special sizes available on request
Materials
Metal parts: 1.4571

Springs: Hastelloy C

Seal faces:

Silicione carbide (Q1, Q2)

Tungsten carbide (U2)

Carbon graphite (A, B)

O-Rings:

FKM

EPDM

PTFE

FEP wrapped

Silicone

AlfasR

KalrezR